FAQS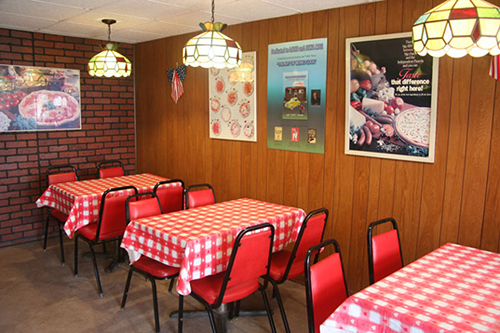 When was Louie's Pizza founded?
Please refer to our
history page
.
Do you Deliver?
Yes and No. Given advanced notice we will cater your business meetings, birthday partys any other events but for large orders only.
Can I dine in at Louie's?
Yes, we have three tables that are first come first serve during lunch but would be more than happy to reserve a table for you during dinner. Just call ahead and ask!
Can I call and order in advance?
Yes, we actually encourage our customers to call ahead for there pizza, especially on weekends as the wait time on an order can exceed an hour. Simply call us from work with your order and what time you would like to pick your pizza up and we will have it ready when you arrive at your pick up time.
Why do your hours of operation say that you close at 7ish?
At Louie's Pizza we make our dough fresh daily and we make a certain amount of dough each day. When we run out of dough we simply close and depending on how busy we may or may not be on any given day is the deciding factor as to when we close. There are days that we stay until 8pm but there are also times when we run out of our fresh dough at 6:45pm and close
Where do I park?
Parking at Louie's can be difficult because of its location and no parking signs. Please pay no attention to any no parking sign if you are pulling up simply to pick up a pizza as you will not be ticketed. Parking is also available on either side of Richardson St.
Are gift certificates available?
Yes, we have any denomination of gift certificates that you would like.
Any other questions feel free to call and ask!